We introduced the new 3-panel Multifit fireguard to cater for those who have corner hearths or fireplaces with shallow hearths. Rather than completely surrounding the hearth or the chimney breast, the 3-panel fireguard can go wall to wall effectively sectioning off the stove or fire with fewer panels, taking up less space but keeping a safe distance from the heat source. This 3-panel fire guard may also suit those with inset stoves or fireplaces with very small hearths to create a neat, elegant and babyproof fireguard surround around the heat source without taking up too much space.
Features:
New Super Easy Installation! Fit in just a few minutes! Takes seconds to assemble, and just a few minutes to wall mount.
A great fit : multiple sizes now available - we guarantee our fireguard will fit any fireplace or stove - in the most efficient way possible. We offer a customization and sizing service. Simply fill out the form below.
Built to last. Heavy duty metal build that will last years and even for toddlers you may have in the future!
Uniquely Versatile. Every panel angle can be unlocked to adjust the angles 360 ° and then locked at that angle. Fits your space perfectly, stays rigid for stability. Panels are interchangeable if required.
Extend with 20cm, 30cm, 49cm, 70cm or 90cm panels if needed. If it suits better you can also purchase a 5 panel with additional sections right away as many people do. See all extensions on this page
76cm high for extra safety, taller than standard baby gates
Baby proof & designed to EN 1930: 2011 . double locking gate (one-handed operation), no sharp corners, non-toxic paint & anti-climb wall brackets.
New Swing Shut Operation simply walk through and swing shut after use.
New! Quick Release & Fold up in seconds. Super easy quick release wall mounts, no need to dissassemble to fold up.
Baby-proof with double locking gate (one-handed operation), no sharp corners, heat resistant non-toxic paint & anti-climb wall brackets &
1 year warranty as standard

SIZING GUIDE
Each 3-panel guard comes with 3 panels.
The gate is 90cm as standard
The brackets add an additional 5cm depth.
The brackets can be fit at any angle so even on slanted or adjacent walls. The wall needs to be level vertically however for the brackets to fit properly.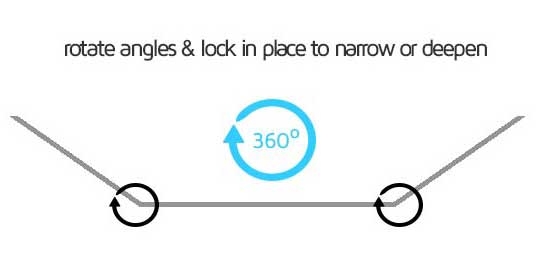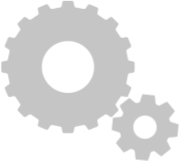 Wall Brackets
Anti-Climb Wall brackets: Designed so that a foothold is not possible to avoid the climbing hazard.The wall brackets on the Multifit are positioned above the skirting towards the top of the gate. The brackets are super durable to withstanding impacts from adults and children alike
Quick Release : Remove from the wall in seconds with quick release buttons. ( the cover of the wall bracket can also be slid off so that only the wall plate remains)
Extra Strong : wall brackets are 5cm deep. Wall plates are 4.5cm x 45cm and are fitted starting from 34cm from the floor running all the way up to the top of the gate.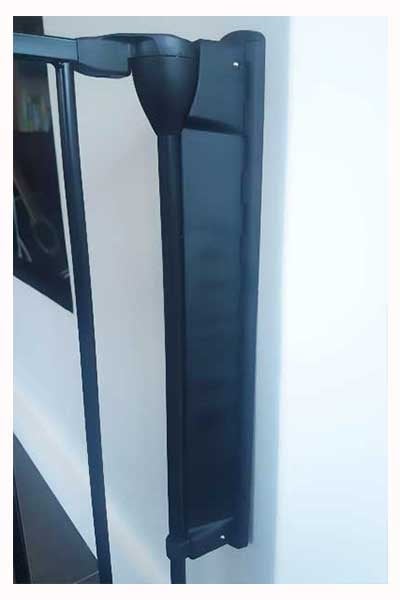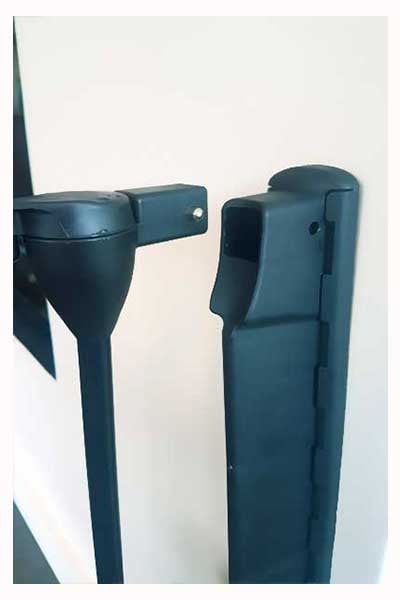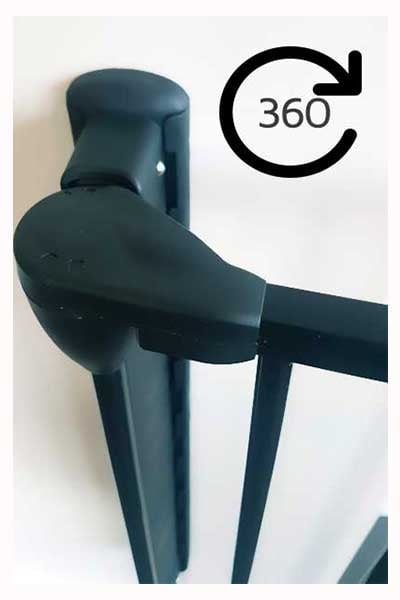 Fold up & put away in seconds.
Quick release in seconds and fold up flat when not in use: The gate has a baby proof but quick release bracket system operated making it extremely easy to dismantle. Loosen the hinge locks and fold it up neatly for storage under a bed or in a cupboard.
Please note not all configurations of our baby fireguard will fold exactly like in the photo above. In some cases it may be neccessary to dismantle the guard to fold in the smallest way possible ( only takes a few seconds).
Baby proof double lock
Child Proof Double Locking System: The gate portion of the Multifit, uses a childproof double locking system that secures the gate at top and bottom but is possible for an adult to open with one hand. Just slide your thumb & Lift
Swing shut gate
Walk through and swing shut behind you to put the gate back to the locked position with ease. Ideal for high traffic areas or where one handed operation is required.
Extend if required
If after purchasing the Multifit Fireguard you decide you would like to cover a larger area no problem - simply purchase a 20cm, 30cm, 49cm , 70cm or 90cm extension. See all extensions on this page
Other features
No sharp corners: The Multifit is designed so that there are no sharp edges that could cause an injury to your child should bump into the gate. Furthermore, if positioned correctly and the correct size is purchased the gate will clear your hearth which is one of the most dangerous collision risks in your living room.
NonToxic Paint: As with all Babasafe baby safety products the Multifit is coated with paint that does not have harmful chemicals.
We can provide a custom configured fireguard!
Have an unusual stove or fireplace? No problem we can help with that! Our expert team is at hand to provide custom fireguard configurations and expert advice on unusual shaped hearths and plinths, inglenooks, corner stoves and even circular shaped hearths. We will offer advice on how to achieve the safest and best-looking option for your space and in particular, if you are limited for space we can help you figure out the best option. To avail of this free service please fill out the sizing form at the top of the page and we will call you within 1 business day to discuss. Please note we only provide this service over the phone as there can be many variables to cover and it can get very long winded over email!
Customer Reviews
Very impressed with delivery

Review by Joseph / (Posted on 29/01/2019)

Not yet fitted. Definitely looks the business

Generally good, sturdy and robust, exact size required, looks decent but disappointed by lack of symmetry and concern over wall fixings

Review by James / (Posted on 27/01/2019)

Overall pleased because it was the only one I found of the size I needed and its nice and robust. However, I'm slightly disappointed because all the panels are the same and not right and left sided/mirrored hence the sides are not symmetrical and it is not square to my hearth/rug. Also I'm not sure the plugs and screws supplied were 6mm, it pulls out of the wall quite easily so I will be replacing the plugs with self-bought ones.

From Babasafe: Thanks for your input, we really appreciate it . In order to facilitate folding up the joints must stick out on one side. We can confirm that the plugs are 6mm but they are all-purpose and as per instructions you should use appropriate plugs as per your fixing surface. I hope that helps. Babasafe Customer Service